#WeAreRingette - The Story About Allison Wilcox
---
---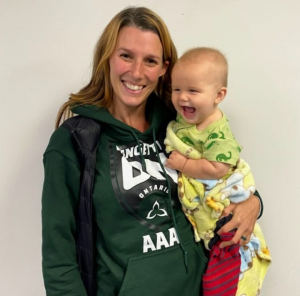 ---
When you think about ringette, what comes to your mind? Or perhaps it is not what comes to your mind, but who comes to mind? Could it be the friends you have met along the way, that one family member who has been there for you, or how about that one coach who pushes and encourages you to be your best? In the end, ringette is what it is because of the people within our community; #WeAreRingette.
Throughout the #WeAreRingette journey, we will be making pit stops along the way to tell you stories of people within our community, showcase the pathways within ringette and even without sports as a whole, and so much more.
The ringette community is built with so many strong-willed, determined, like-minded individuals whose passion for the sport shows, and that brings us to our FIRST #WeAreRingette story; Allison Wilcox.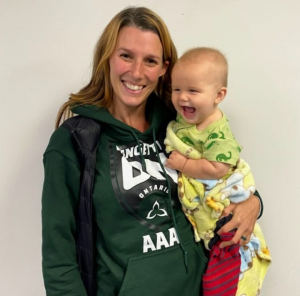 Allison is a perfect explanation of passion, determination & power of will. Her journey is truly one to read. To put her story into perspective, Allison is a coach with CORA, The City of Ottawa Ringette Associations U19AA team (assistant coach), head coach of Team Green for the RO AAA program, a player with the 18+ A division with Ottawa Avalanche, and a mom of 2 boys! When we spoke with Allison, she mentioned, "Coaching & I guess you could say playing ringette is a family affair. I am a 3rd generation ringette coach and a 2nd generation player. My grandmother coached my mom & two aunts on outdoor rinks in Sudbury when Ringette was first introduced in the '70's." This family affair didn't stop there. Her uncle was also very involved within the ringette community. "My uncle used to ref my mom & aunt's games that my grandma coached, and he is still refereeing today."
One may wonder how Allison can be a coach, be a player, be a parent, and want to be still so involved in ringette. Allison says, "It's because it's my passion. I found what I love. My passion for this sport has allowed me to do more than I could have imagined. I have seen my little bunny (FUN 1 & FUN 2) athletes grow up. I have been able to apply for opportunities that I thought weren't possible, but here I am, proving myself wrong. I was able to start the Carleton University Ringette program back in 2009." She then went on to explain that starting this team and becoming the head coach of the bunny program for CORA "was probably one of the best ringette experiences for me."
Just from this part of her story, we learned that no matter your experience or comfort level, there is always an opportunity for you. In the end, like Allison said, "Shoot your shot, you never know until you try because I never thought I would be in my 6th season with CORA and a head coach in the AAA program. I never thought it would have happened back when I was coaching 4-year-olds." For Allison to think that the kids she started coaching at the age of 4 are now U16 and in two years, she could be coaching them again. She said, "It's crazy to think. I would have never thought it would have come full circle like that."
If you're reading this, you probably agree that ringette is for life, whether you realize it or not. Allison mentioned that she loves seeing these athletes continue to play at the older levels because some don't learn how much they can do after high school. She even mentioned, "I thought going off to university that my ringette career was made. I remember my last game on the ice and thinking to myself, this is my last game, but I truly remember how I felt & the emotions of thinking this could be my last game." Needless to say, that "last game" was not her last.
THE RINGETTE COMMUNITY IS A FAMILY!! Can you agree with this statement?
We mentioned above that Allison is a mom of 2, a coach and a player so we asked her how does she do it? How would she describe her life? The first thing she said was "BUSY!", which we can all only imagine. She went on to explain that, "Ringette is my passion; I wouldn't be doing all of this if I didn't love it. It's a priority of mine, and I make it work. But, in the end, the support I have from friends & family is truly what keeps me going." Being a mother is a significant role, and she wouldn't change it for the world, but like she said, "I need my me time; I need to do something for me. Coaching and playing allow me to be a better mom. It allows me not to get so caught up in the life of being a mom."
Allison provided so much insight into her life, but we had to ask her if she had one piece of advice for someone in a similar situation as her, what would she tell them? "As a mom, we struggle to sometimes ask for help, and this ringette community so supports that people want to help you, so just ask." She went through a season where parents would help by watching her kids while she coached and even had past players come to the rink to help. Just need to know that if you are in this situation, the community has your back, and don't be afraid to ask for help. Allison mentioned that she loved being a mom but that the ringette community needs more moms, whether they have played or not. In the end, anyone can coach. She would like to have more women on the bench in higher roles. Our athletes need to see more role models to see what their futures could look like.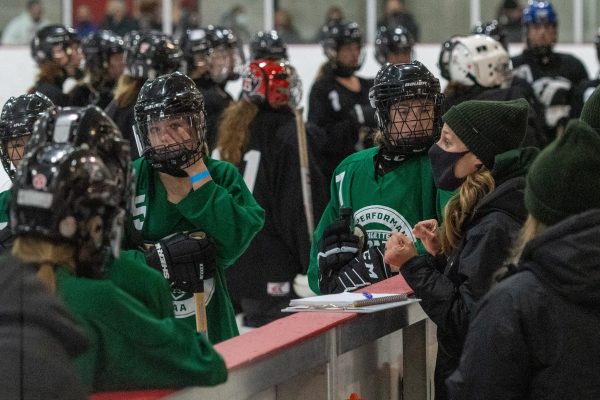 When you think about it, Ringette Ontario has a community of over 60 associations across the province, which is fantastic, but as a sport, what can we do to grow, which is just what we asked Allison. We wanted to know where she hopes to see ringette in a few years. She said, "To grow this sport, we need to start small. We need to grow our sport in rural communities that may not have the same opportunities as the GTA associations do. I think the impact of this idea could grow our sport to be what we have always wanted it to be."
We thank you if you have made it to this part of a blog post. By you getting here this allows us to keep growing the #WeAreRingette concept. It will enable us to help break down the barriers, and in the end, we hope you can relate to someone's story along the way.
Takeaway pieces of advice:
Get out of your comfort zone & go for it.
Take all the opportunities you can to learn & develop yourself personally, professionally, and physically.
Don't think you can't do something.
Let's keep building our #WeAreRingette community because we believe it only takes one story that could change one athlete's life.
Do you have a story to tell or know of someone? Send an email to Cassie at cassie@ringetteontario.com